Oh dear. I have neglected to blog for so long but am bound and determined that this year I am going to blog more often! That's my New Year's Resolution. The holidays are over and there are no more excuses!
I have just registered for the 5th Bead Soup Blog Party for the first time. Very exciting. Hope I am one of the 200 random names. If you are interested in joining in the fun you can click on the following link for more information.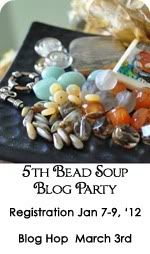 What are your plans and resolutions for this year?